Letters from Lockdown – Guantánamo, Utah, and On the Run
April 24, 2020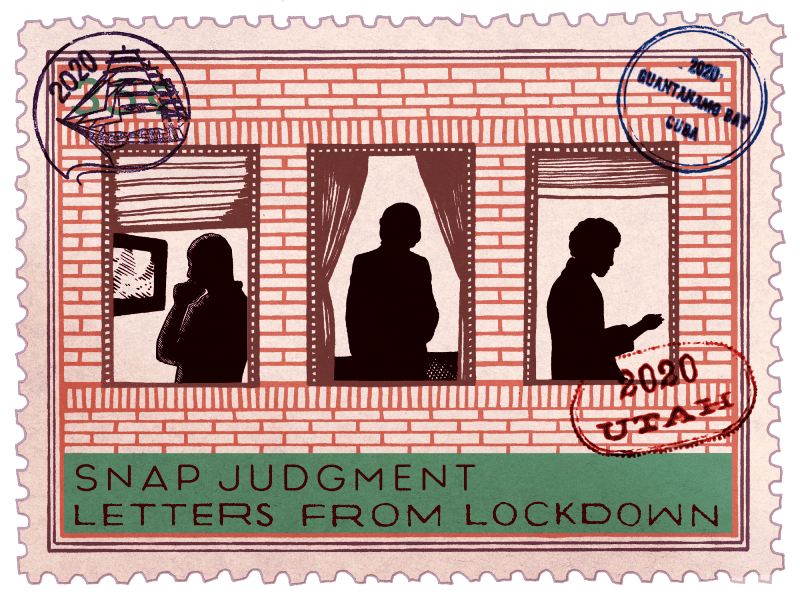 var fontLinksRaw = document.querySelector( '.toolset-blocks-styling-font-links-tmp' );
if( fontLinksRaw ) { fontLinks = window.atob( fontLinksRaw.innerHTML ).split( '###' ); var href = 'https://fonts.googleapis.com/css?family=' + fontLinks.join( '|' ); var fontAlreadyApplied = document.querySelector( "link[href='" + href + "']" );
if ( ! fontAlreadyApplied ) { var newLink = document.createElement( 'link' ); newLink.href = href; newLink.rel = 'stylesheet'; document.head.appendChild( newLink ); } }
var styleTmp = document.getElementsByClassName( 'toolset-blocks-styling-font-links-tmp' ); while( styleTmp[0] ) { styleTmp[0].parentNode.removeChild( styleTmp[0] ); } var scriptTmp = document.getElementsByClassName( 'toolset-blocks-script-font-tmp' ); while( scriptTmp[0] ) { scriptTmp[0].parentNode.removeChild( scriptTmp[0] ); }
Team Snap proudly presents the second installment of, "Letters from Lockdown," featuring stories from people around the world who have experienced lockdown before.
STORIES: 
Guantánamo
Mansoor Adayfi comes from Yemen but was detained at Guantánamo for fifteen years. Find out what he did to survive the brutality and isolation of a terror prison.
Mansoor is available for speaking and writing. Find him on Twitter (@mansooradayfi), Instagram, Facebook, or check out his website. 
Utah
If you could only write down one sentence a day what would it be? Dr. Judy Elsley found herself as a patient battling for her life.
An artist and retired English professor, she lives with her husband in Ogden, Utah. Learn more about Judy.
On the Run
Meg and Elena were in love… and escaping Russia. They set sail on a small boat, heading out into the open seas, knowing only that they had each other.
You can find Meg and Elena's blog and books on their website.
Thank you, Mansoor, Judy, Meg, and Elena, for sharing your stories with us!
Produced by Shaina Shealy, Naomi Zeveloff, Liz Mak, and Anna Sussman
Music by Renzo Gorrio, additional production by Pat Mesiti-Miller
Artwork by Sanaa Khan
Digital Producer: Marisa Dodge
Season 11 – Episode 11
Our team is working quickly to put together more pieces of advice from people all over the world. If you have advice from a past lockdown you'd like to share, email us at pitches@snapjudgment.org.
The beat doesn't happen without YOU. Support Snap storytelling… stories you won't hear anywhere else.
Producer Credit:
Original Score:
Artwork: Teo Ducot
Recent Episodes