Letters from Lockdown – Philippines, Greece, Michigan, Libya
May 13, 2020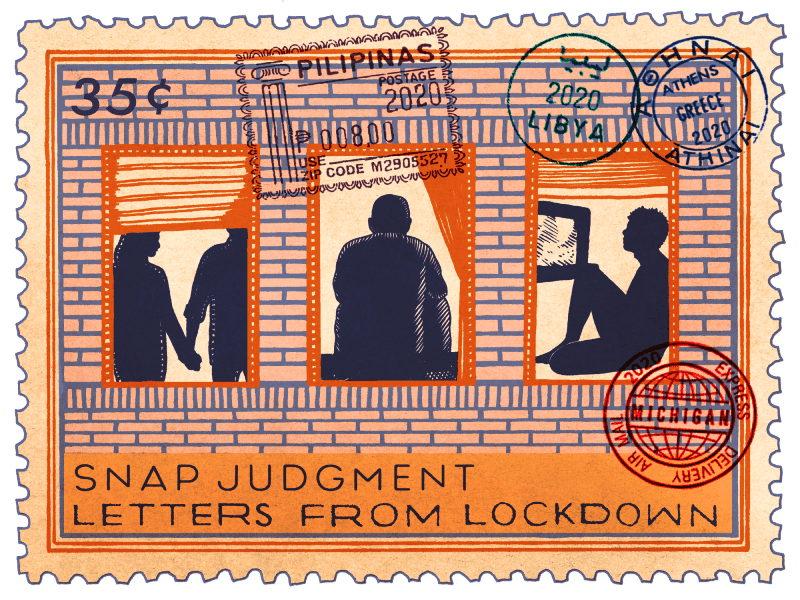 var fontLinksRaw = document.querySelector( '.toolset-blocks-styling-font-links-tmp' );
if( fontLinksRaw ) { fontLinks = window.atob( fontLinksRaw.innerHTML ).split( '###' ); var href = 'https://fonts.googleapis.com/css?family=' + fontLinks.join( '|' ); var fontAlreadyApplied = document.querySelector( "link[href='" + href + "']" );
if ( ! fontAlreadyApplied ) { var newLink = document.createElement( 'link' ); newLink.href = href; newLink.rel = 'stylesheet'; document.head.appendChild( newLink ); } }
var styleTmp = document.getElementsByClassName( 'toolset-blocks-styling-font-links-tmp' ); while( styleTmp[0] ) { styleTmp[0].parentNode.removeChild( styleTmp[0] ); } var scriptTmp = document.getElementsByClassName( 'toolset-blocks-script-font-tmp' ); while( scriptTmp[0] ) { scriptTmp[0].parentNode.removeChild( scriptTmp[0] ); }
Some stories that seem the furthest away hit closest to home. Team Snap presents more lockdown advice from around the world, even from the places you least expect. Listen to the fifth installment of "Letters from Lockdown."
Philippines
Father Picx is a Catholic priest from the Philippines. Every year he spends months alone in his hermitage, but his first experience with real solitude wasn't on a retreat… it happened in a place called the Dragon Room.
Greece
Noah and Freya met in a refugee camp in Greece. But after they fell in love, and wanted to start a new life together, they found it wasn't quite so easy to leave.
Watch Noah recite his poem + learn about Freya's business.
Michigan
Alison wanted to take a nice long soak and found herself trapped for days.
Special thanks to Juuni in Michigan for helping us out during the pandemic.
Libya
Rafram is a visual artist who grew up in Jerusalem and traveled to Libya 10 years ago to photograph synagogues and Jewish graveyards. Rafram says he was granted permission from the Libyan government and police, but on the last day of his visit… Rafram was kidnapped.
These days, Rafram lives in Tunis, and usually posts pictures of his culinary adventures on Instagram. But he's currently on a social media break for 170 days, to mark 10 years since he spent 170 days in prison.
"Freedom is priceless, and real freedom is happening inside us," he wrote in his last post.
Thank you, Father Picx, Noah, Freya, Alison, and Rafram, for sharing your stories with us!
Produced by Shaina Shealy, Naomi Zeveloff, Liz Mak, Anna Sussman, and John Fecile
Music by Renzo Gorrio, additional production by Pat Mesiti-Miller
Artwork by Sanaa Khan
Digital Producer: Marisa Dodge
Season 11 – Episode 16
The beat doesn't happen without YOU. Support Snap storytelling… stories you won't hear anywhere else.
Producer Credit:
Original Score:
Artwork: Teo Ducot
Recent Episodes