Letters from Lockdown – Sarajevo, Yangon, New Orleans, San Francisco
June 15, 2020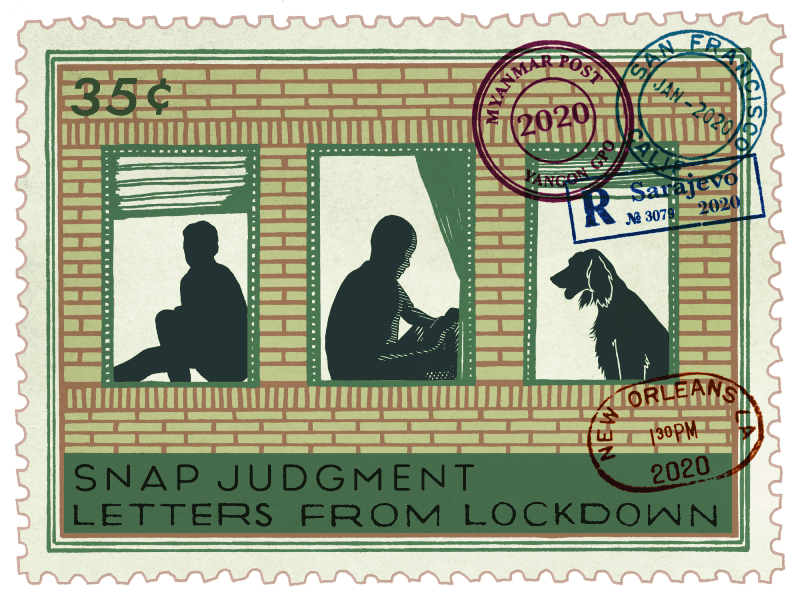 var fontLinksRaw = document.querySelector( '.toolset-blocks-styling-font-links-tmp' );
if( fontLinksRaw ) { fontLinks = window.atob( fontLinksRaw.innerHTML ).split( '###' ); var href = 'https://fonts.googleapis.com/css?family=' + fontLinks.join( '|' ); var fontAlreadyApplied = document.querySelector( "link[href='" + href + "']" );
if ( ! fontAlreadyApplied ) { var newLink = document.createElement( 'link' ); newLink.href = href; newLink.rel = 'stylesheet'; document.head.appendChild( newLink ); } }
var styleTmp = document.getElementsByClassName( 'toolset-blocks-styling-font-links-tmp' ); while( styleTmp[0] ) { styleTmp[0].parentNode.removeChild( styleTmp[0] ); } var scriptTmp = document.getElementsByClassName( 'toolset-blocks-script-font-tmp' ); while( scriptTmp[0] ) { scriptTmp[0].parentNode.removeChild( scriptTmp[0] ); }
Team Snap brings you voices from four amazing people – some looking to the future, some looking at the past, and those who never emerged. We proudly present our sixth installment of "Letters from Lockdown."
STORIES
Sarajevo
Alma Telibecirevic was living in the suburbs of Sarajevo when Serbian paramilitary forces invaded her neighborhood and threatened to put her father and brother into a camp. Her family escaped, running deep into the city, a city under siege. That siege lasted four years. Learn more about Alma.
Yangon
Ko Bo Kyi was arrested twice when he was a student in Yangon, Myanmar's biggest city. It was 1988, during the nation-wide uprisings calling for democracy and the release of political prisoners. He later founded an advocacy organization and museum, The Assistance Association for Political Prisoners, where he advocates on behalf of former political prisoners in Myanmar.
New Orleans
Jordan Michael Bridges had just started his senior year of high school when Hurricane Katrina hit New Orleans. The year didn't go as planned – and Jordan is here to offer some love to this year's graduating class of high school seniors.
San Francisco
Brian Basinger lived in San Francisco back in the nineties, during the height of the AIDS crisis. He is the co-founder and Executive Director of the Q Foundation.
Thank you, Alma, Ko Bo Kyi, Jordan Michael, and Brian for sharing your stories!
These stories were produced by Naomi Zeveloff, Shaina Shealy, Liz Mak, Anna Sussman
Music by Renzo Gorrio, additional production by Pat Mesiti-Miller
Artwork by Sanaa Khan
Digital Producer: Marisa Dodge
Season 11 – Episode 19
The beat doesn't happen without YOU. Support Snap storytelling… stories you won't hear anywhere else.
Producer Credit:
Original Score:
Artwork: Teo Ducot
Recent Episodes