Second Skin
May 1, 2015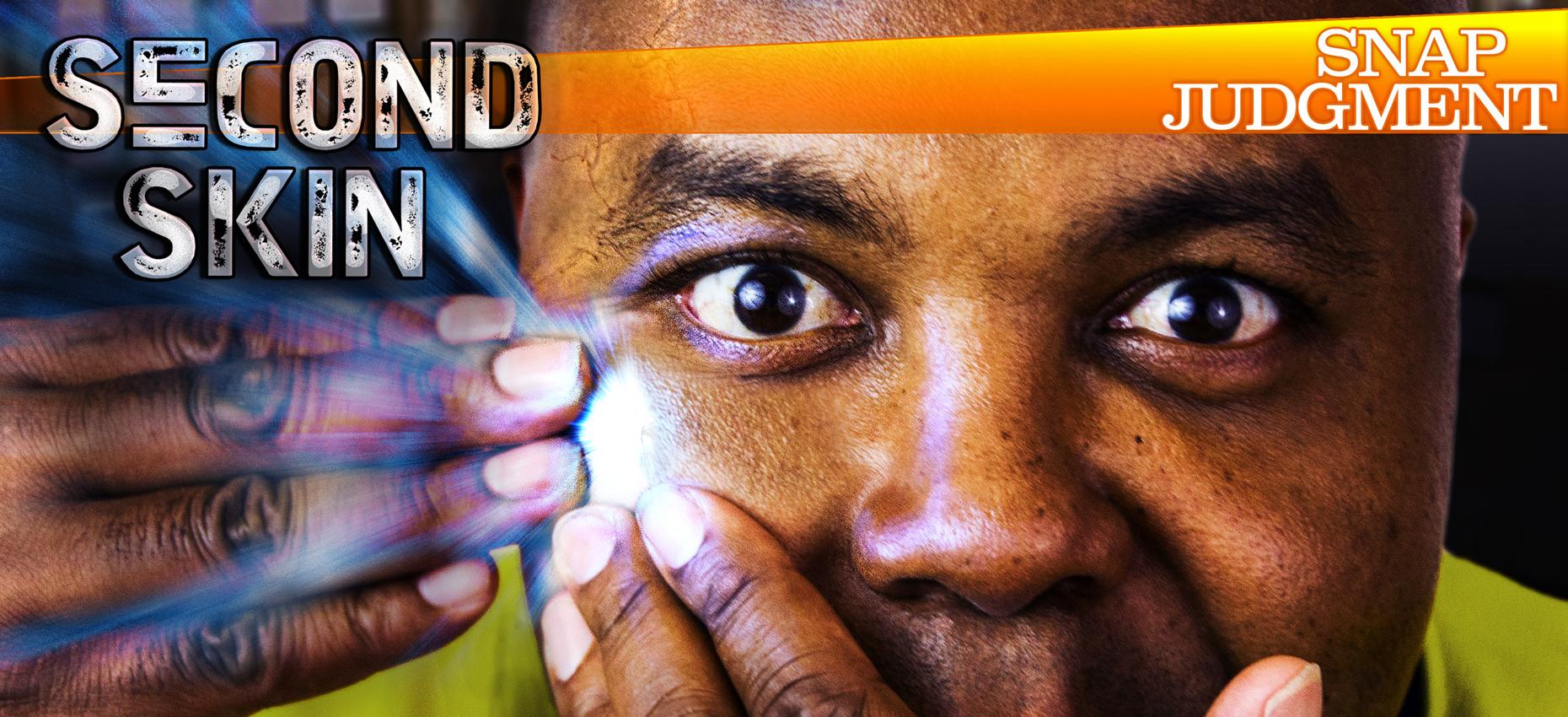 var fontLinksRaw = document.querySelector( '.toolset-blocks-styling-font-links-tmp' );
if( fontLinksRaw ) { fontLinks = window.atob( fontLinksRaw.innerHTML ).split( '###' ); var href = 'https://fonts.googleapis.com/css?family=' + fontLinks.join( '|' ); var fontAlreadyApplied = document.querySelector( "link[href='" + href + "']" );
if ( ! fontAlreadyApplied ) { var newLink = document.createElement( 'link' ); newLink.href = href; newLink.rel = 'stylesheet'; document.head.appendChild( newLink ); } }
var styleTmp = document.getElementsByClassName( 'toolset-blocks-styling-font-links-tmp' ); while( styleTmp[0] ) { styleTmp[0].parentNode.removeChild( styleTmp[0] ); } var scriptTmp = document.getElementsByClassName( 'toolset-blocks-script-font-tmp' ); while( scriptTmp[0] ) { scriptTmp[0].parentNode.removeChild( scriptTmp[0] ); }
On the next Snap, "Second Skin." Take a closer look… the person you think you know you may not know at all. Snap Judgment, storytelling with a beat…from NPR and PRX.
The Golden Lotus
When Glynn is tormented by bullies at school, he fights back with the hidden power of the Golden Lotus
Producer: Pat Mesiti-Miller
The Pirate Negotiator
Danish shipping CEO Per Gullestrup knew how to drive a hard bargain, but when he learned that twelve of his employees were being ransomed by pirates, he faced most important negotiation of his life.
Producer: Joe Rosenberg
The Undocumented Informant
Norma never expected to walk into a police station and come out an informant. The decision was supposed to be her saving grace, instead it bound her to a criminal life.
Producer: Nancy Lopez
His Feminine Side
Josh Healey's drama club crush picks The Vagina Monologues for the school play… featuring him in the starring role.
Find out more about Josh Healey at joshhealey.org.
Performed live at Snap LIVE! in LA
Music: Alex Mandel
Season 5 Episode 8
Producer Credit:
Original Score:
Artwork:
Recent Episodes