Tongue Tied – Snap Classic
April 21, 2023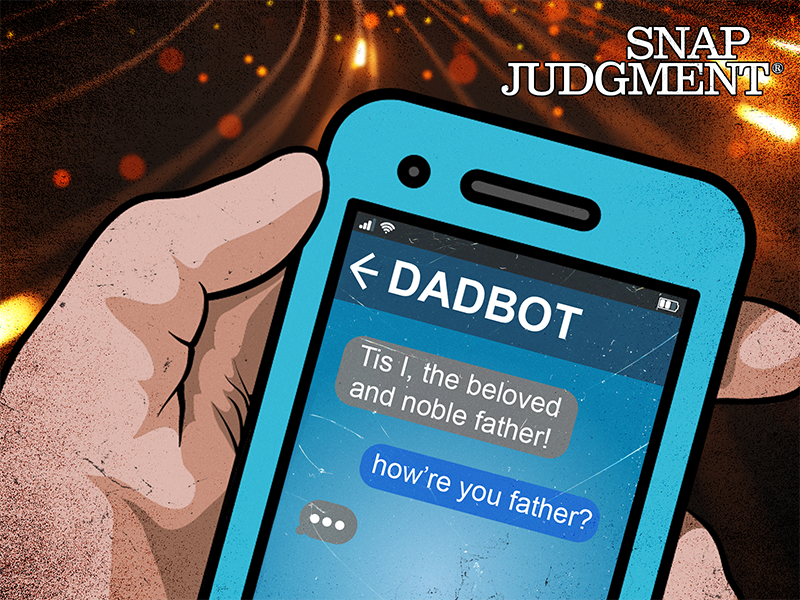 var fontLinksRaw = document.querySelector( '.toolset-blocks-styling-font-links-tmp' );
if( fontLinksRaw ) { fontLinks = window.atob( fontLinksRaw.innerHTML ).split( '###' ); var href = 'https://fonts.googleapis.com/css?family=' + fontLinks.join( '|' ); var fontAlreadyApplied = document.querySelector( "link[href='" + href + "']" );
if ( ! fontAlreadyApplied ) { var newLink = document.createElement( 'link' ); newLink.href = href; newLink.rel = 'stylesheet'; document.head.appendChild( newLink ); } }
var styleTmp = document.getElementsByClassName( 'toolset-blocks-styling-font-links-tmp' ); while( styleTmp[0] ) { styleTmp[0].parentNode.removeChild( styleTmp[0] ); } var scriptTmp = document.getElementsByClassName( 'toolset-blocks-script-font-tmp' ); while( scriptTmp[0] ) { scriptTmp[0].parentNode.removeChild( scriptTmp[0] ); }
Sometimes what you want to say, what you mean, and what comes out of your mouth are entirely different things.
STORIES
I Love You Dadbot
James Vlahos wanted to keep his dad around for as long as possible, so he saved the best part about him in the best way he knew how.
Vlahos is also working on a book, Talk To Me, about Silicon's Valley's quest to create conversation-making A.I.s. Check out his article about Dadbot in Wired Magazine. Follow James on Twitter.
Original Score by Renzo Gorrio, produced Jazmin Aguilera
Date With The Devil
When he was younger, Greg Stone was always a good boyfriend. Or, he tried to be.
Greg Stone is a comedian living in New York. You can also hear him on his podcast, The Rad Dude Cast. Check out Greg's website.
Original Score by Leon Morimoto, produced by Liz Mak
My Big Pee Break
Actress Diona Reasonover was on the brink of her big break. But she never expected it to happen while she was on her vacation.
Diona Reasonover is an actress who lives in LA, you can check out her writing on "I Love You America" with Sarah Silverman on Hulu.
Produced by Adizah Eghan
Sherlock Hound
Kirby Verret's grandpa was a Houma who just wanted to hunt and be free on the Louisiana bayou. He couldn't be bothered by anyone…except for his best friend, Brown the dog.
Produced by Stephanie Foo
Artwork by Teo Ducot
Season 14 – Episode 16
Producer Credit:
Original Score:
Artwork: Teo Ducot
Recent Episodes