Weight Of The World
May 22, 2015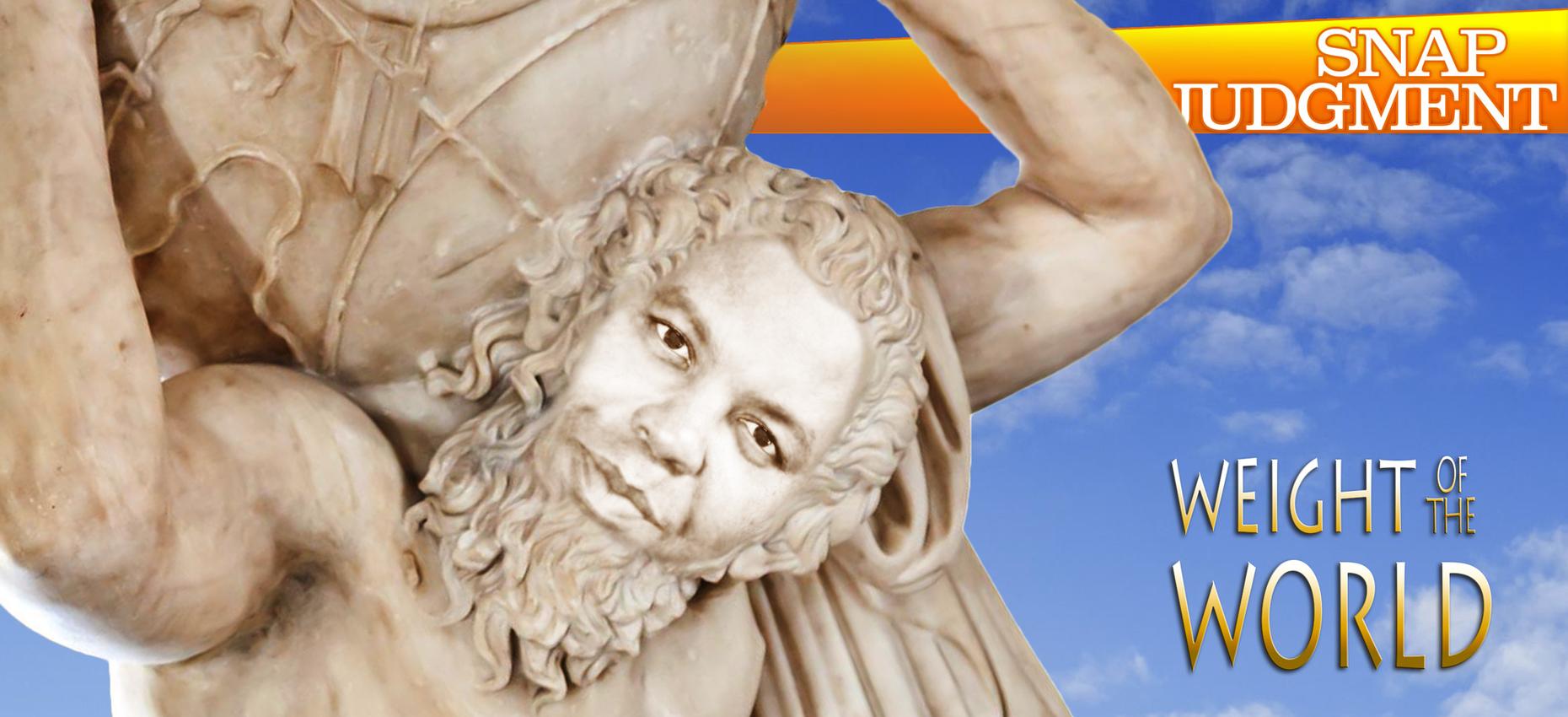 var fontLinksRaw = document.querySelector( '.toolset-blocks-styling-font-links-tmp' );
if( fontLinksRaw ) { fontLinks = window.atob( fontLinksRaw.innerHTML ).split( '###' ); var href = 'https://fonts.googleapis.com/css?family=' + fontLinks.join( '|' ); var fontAlreadyApplied = document.querySelector( "link[href='" + href + "']" );
if ( ! fontAlreadyApplied ) { var newLink = document.createElement( 'link' ); newLink.href = href; newLink.rel = 'stylesheet'; document.head.appendChild( newLink ); } }
var styleTmp = document.getElementsByClassName( 'toolset-blocks-styling-font-links-tmp' ); while( styleTmp[0] ) { styleTmp[0].parentNode.removeChild( styleTmp[0] ); } var scriptTmp = document.getElementsByClassName( 'toolset-blocks-script-font-tmp' ); while( scriptTmp[0] ) { scriptTmp[0].parentNode.removeChild( scriptTmp[0] ); }
On an all-NEW Snap…"Weight Of The World." Everyone has a secret. Some secrets are heavier than others. Snap Judgment, storytelling with a BEAT…from PRX and NPR.
Out of Uniform
Glynn wants to join the boy scouts, but there is one thing in his way.
Producer: Pat Mesiti-Miller
Shot In The Dark
Growing up David Jackson knew one thing, that he would never be like his dad.
This story was adapted from Whit Missildine's podcast This Is Actually Happening, featuring stories about what happens when everything changes. You can listen to episodes on their website or subscribe to their podcast on iTunes.
Producer: Whit Missildine
Co-producer: Nancy López
Sound Design: Renzo Gorrio
The Red Lantern
What drives a man across the middle of the frozen tundra?
Listen as Jeff Greenwald performs "The Red Lantern" for the event "That Actually Happened" at the Monkey House Theater in Berkeley, CA. For more info on writer Jeff Greenwald (and to purchase his books!) visit JeffGreenwald.com
The Recipients
Cynthia McCabe was checking through her email one last time before she went to bed when she noticed a strange email caught her attention. She opened it and started reading. "I'm an American ex-pat writer," it said, "and this is my last day on Earth."
Producer: Julia DeWitt
Sound Design: Leon Morimoto
Season 6 Episode 13 
Producer Credit:
Original Score:
Artwork:
Recent Episodes